We are a consulting firm specialized in providing services and solutions in the following areas: privacy, e-commerce and online marketing.
Get to know Argo founders!
Daniele Berardo
IT & Digital Security Specialist | Co-Founder
Master's Degree in Computer Engineering for computer graphics and multimedia at Polytechnic University of Turin. While attending the University, he worked in the Computer Science field, developing a strong knowledge of IT management on Linux and Windows systems. In 2009 he took part in the Master in Intellectual Property, where he approached the world of patent and trademark protection. Since 2008 he has worked in the IT field, developing a strong interest related to cybersecurity and software development. Contributor fon online magazine Cybersecurity360 [link]
He also achieved the ISO/IEC 27001 Foundation certification (Badge), that is the best-known international standard in the providing requirements for an information security management system (ISMS).
Fabio Cassanelli
GDPR Consultant and IP Expert | Co-Founder
Bachelor's Degree in Business Administration and Master's Degree in Environmental Economics at University of Turin (Department of Economics and Statistics "Cognetti de Martiis"). He is passionate about topics related to intellectual property, economics, law and finance of the European Union. He is specialized in privacy protection and GDPR compliance. He is tutor for the course "Privacy for freelance translators" of STL Formazione. Fabio has also obtained the certification "Copyright X" issued by the Harvard University.
Italian mother-tongue, he studied Chinese, English and French.
President of the association Osare Europa and editor, co-founder of "Europae – Rivista di Affari Europei" (European Affairs Journal). Author and host of the podcast "Lo Stato dell'Unione" (The State of the Union) produced by Piano P.
Simone Bonamin
GDPR Consultant and Data Analyst | Co-Founder
Master's Degree in International Economics, he wrote a final dissertation on Chinese Law about the protection of trademarks on the Chinese e-commerce. Passionate about Chinese language and culture, he went to China many times for study and travel purposes.
Strongly interested in intellectual property and new technologies, he developed a strong knowledge about e-commerce and privacy Laws.
He developed a deep knowledge of the e-commerce universe and its problems. He is also author of two articles on the Italian magazine "Guida giuridico normativa di Italia Oggi" about the "counterfeit problem in the Chinese e-commerce market" and the "use of the Designations of Origin for wines on the online B2B marketplaces".
Interested in technology, classical music, table tennis, financial markets and international politics.
Eraldo Antonietto
Engineer | Senior software developer 
Interested in Information Technology, in 2003 he obtained a Master's degree in Computer Engineering at Polytechnic University of Turin. He has been working for 14 years in the IT sector, developing specific skills in the knowledge management, online brand protection and crawling technologies fields. Expert in DotNet, PHP and Go programming languages, he acquired a profound knowledge of Magento CMS.
Passionate about chess (competing in the Italian second category), aircrafts, sports car, Formula 1 and racing simulators like "Grand Prix Legends". He listens to metal music and he studies Russian language.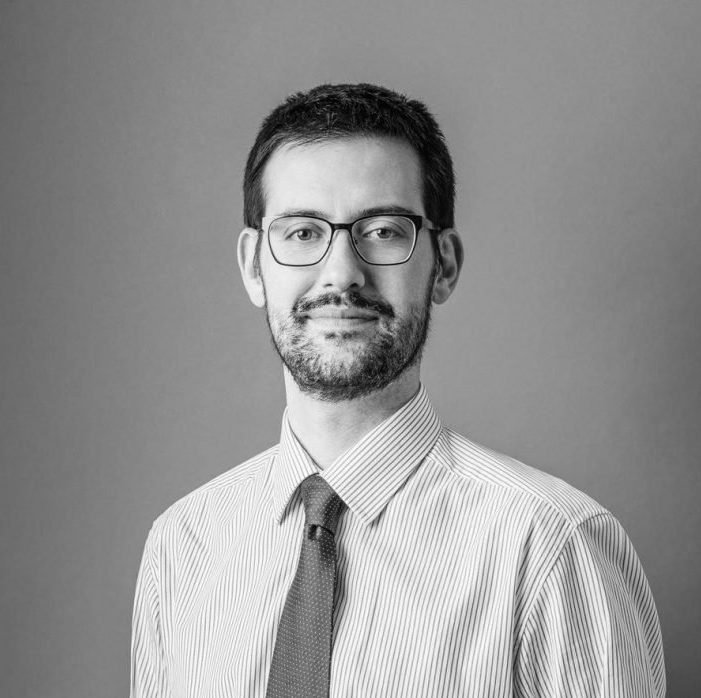 Stefano Mongilardi
Lawyer
Graduated with honors in Law from the University of Turin, with a thesis in law and literature, he became expert in the field of criminal law. After becoming member of the Turin Bar Association, he began his practice in labor law, which is currently his main area of activity at the law firm Ravinale Baldassarre Pereno Toninello and associates.
He attended the VII biennium of the Scuola AGI di Alta Formazione in Diritto del Lavoro, Sindacale e della Previdenza Sociale "Luca Boneschi"; he is also a member of the "Domenico Napolitano" Study Center Piedmont Section.
An enthusiastic reader, he has been practicing different martial arts over the years and he is attending an AIS course to become a sommelier.
Graduated in Law from the University of Turin with full marks. She also graduated from the "Bruno Caccia and Fulvio Croce" School of Specialization for Legal Professions in Turin. She practices in the private, commercial and bankruptcy law profession.
She has acquired expertise in the world of voluntary work and civil society, working actively within associations dealing with democratic inclusion, social movement, rights protection, and the fight against mafias and corruption, such as Acmos and Libera.
She was a founding member of StraLi in 2018, a non-profit organization that encourages rights protection through strategic litigation.
Argobs.com Powered by Argo Business Solutions S.r.l.
VAT N. 03746780042 - REA N. CN-313853
Registered Office: Viale Degli Angeli 6, 12100 Cuneo, Italy
Headquarters: Via Luigi Cibrario 11, 10143 Torino, Italy
Phone: +39 011 19115359
E-mail: info@argobs.com // Certified E-mail: argobs@arubapec.it